The Alaska World Affairs Council has partnered with local schools to make our world-class speakers available to more students. Local and visiting speakers can be requested by teachers to speak to classrooms or large groups of students.
Requests for speakers should be submitted at least 10 days prior to a desired host date. Due to limited availability, visiting speakers may only be able to speak at one school during their visit to Anchorage.
Please contact Rachel Williams with questions about hosting a speaker for your students. The online form is available here.
Request Form
---
Speaker Bios
Below are mini bios for local speakers available for scheduling year-round. Visiting speaker bios can be found on the event page for their public program.
INTERFAITH COMMUNITY PANEL –
Heather Barbour, member and representative of the Islamic Community Center of Anchorage;
Marla Greenstein, Jewish community leader in Anchorage;
Matt Schultz,

pastor of First Presbyterian Church in Anchorage;

OMead Rahmanian, Baha'i faith community leader in Anchorage
---
NICHOLAS BEGICH –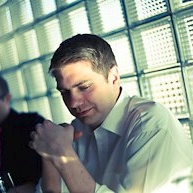 Nicholas Begich has nearly twenty years of business and information technology management experience, and has led and advised global development teams for clients ranging from Fortune 500 companies to venture-backed startups. He is the CEO and Founder of FarShore Partners, a custom software development firm; and co-founder of Dashfire, a start-up enabler assisting companies with business architecture and technology development. FarShore presently employs over 150 people around the world. Through Dashfire, Begich has invested in and helped to start over 40 technology-supported startups in the past several years. These firms have gone on to raise over $100MM in aggregate funding.
Nicholas was previously a Global Technology Manager with Ford Motor Company. He holds an MBA from Indiana University's Kelley School of Business with Concentrations in Information Technology and Decision Support Modeling and a BBA (Entrepreneurship) from Baylor University's Hankamer School of Business.
---
KATHERINE JERNSTROM –
Katherine Jernstrom is the Cofounder and CEO of The Boardroom, has successfully built two companies, and supported the growth of dozens more through mentorship, board leadership, advisement, and funding.
Katherine grew up internationally, she has a BA from the University of Washington, an MPA from the University of Alaska Anchorage and is a graduate of Leadership Anchorage, a Pew Charitable Trusts program. She serves on the board of directors for the Launch:Alaska an energy-focused startup accelerator, Spirit of Youth, The Anchorage Downtown Partnership, the AEDC Live. Work. Play Steering Committee, and is an active Rotarian. At age 30, Katherine was named Top 40 Under 40 by the state-wide Alaska Journal of Commerce.
---
JOHN MOORE –
With 20 plus years of international experience in the service of public, private and non-profit interests across the Islamic world, Mr. Moore brings a unique perspective on the evolution of the political economy of security and development in the region.
Previous professional experience includes working in a variety of humanitarian, development and commercial roles across parts of South Asia, the Middle East and East Africa. This includes service with the US Defense and State Departments as well as multiple NGOs and international organizations. Highlights include work with the UN Assistance Mission in Afghanistan (UNAMA), monitoring of election-related violence in Iraq, and support for the National Human Rights Commission in Nepal. Since then Mr. Moore has worked with major energy companies, advising on socio-economic challenges in the Middle East, Asia and the Americas. He has lectured at the Australian National University's (ANU) College of Business and Economics on the Middle East, and has guest lectured on the evolution of modern Muslim terrorism for ANU's Center for Arab and Islamic Studies and National Security College. John's core area of interest is the use of political economy frameworks of analysis to enable greater understanding of and insight into complex political, social and economic environments.
Mr. Moore has a Masters Degree in Political Economy and International Security Studies from the Fletcher School at Tufts University, and a Bachelor of Arts in International Affairs from the Virginia Military Institute. He has also conducted non-degree research at the Center for the Study of Terrorism and Political Violence at the University of St. Andrews in Scotland and classical literature at St. Anne's College, Oxford. He is currently pursuing doctoral studies at ANU's Asia-Pacific College of Diplomacy. John is married with two sons, and, since moving to Alaska, has adopted a pup.
---
DAVID RAMSEUR –
David Ramseur is a Visiting Scholar in Public Policy at the Institute of Social and Economic Research at the University of Alaska Anchorage and is the author of Melting the Ice Curtain: The Extraordinary Story of Citizen Diplomacy on the Russia-Alaska Frontier, telling the story of how inspiration, courage, and persistence by citizen-diplomats bridged a widening gap in superpower relations.
A 36-year-Alaskan, Ramseur just concluded six years as chief of staff to Alaska U.S. Senator Mark Begich where he managed the Senator's Washington, D.C. and Alaska offices and served as the top political and foreign policy advisor to Senator Begich. Between 2003-08, he was chief of staff to then Anchorage Mayor Begich. He also served Alaska Governors Tony Knowles and Steve Cowper as chief of staff, press secretary and foreign policy advisor.
In 1988, Ramseur helped organize the "Friendship Flight" between Nome, Alaska and Provideniya, Russia, which reunited indigenous families on both sides of the Bering Strait and helped launch nearly two decades of commercial, scientific and cultural activity between the regions. He managed a $2 million federal grant for educational and scientific exchanges between Alaska and the Russian Far East at the University of Alaska's American Russian Center in 1993-94 and worked in Nizhny-Novgorod, Russia as a volunteer media advisor in 1993.
He has traveled extensively in Russia, Asia, Europe and the Arctic. He holds a political science Bachelor's degree from the University of North Carolina Asheville and a Master's in journalism from the University of Missouri. He lives in Anchorage where he enjoys triathlon training and golf. He is married to Anchorage attorney Susan Wibker.
Request Form