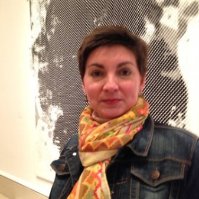 Julie Hirt has spent over 25 years in the global market place in the marketing-communications, branding and sales disciplines. Her experience includes working on both the agency side and the corporate side of business. Currently working at Spawn Ideas, she specializes in brand strategy, marketing communications planning and cross-cultural communication. Her strong leadership skills and attention to detail have allowed her to provide superior client service to global brands such as Sea Ray Boats and The Bold Look of Kohler. Julie's experience also includes telecommunications, higher education, healthcare, financial services and a variety of B2B manufacturing companies.
Julie is fluent in German and proficient in French. She's studied many other languages including Japanese, Chinese, Italian and Spanish. A graduate of Michigan State University, she has received additional education from Thunderbird School of Global Management and the University of Wisconsin.
A new resident of Alaska, she enjoys seeing as much of the state as she can with her husband and two rescue dogs.