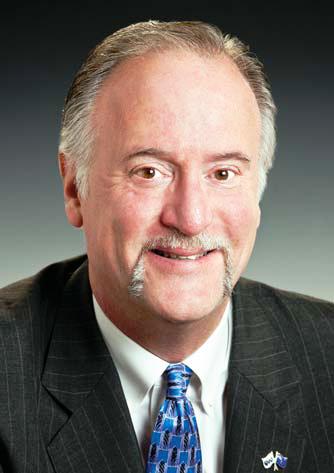 Greg Wolf is one of Alaska's most experienced economic development professionals.
Wolf is the Executive Director of World Trade Center Alaska, a private, non-profit organization whose mission is to assist Alaskans in competing successfully for trade and investment in the global market place. He has held this position since December 2002. World Trade Center Alaska is a membership organization whose membership consists of more than 100 companies and individuals involved directly or indirectly with international trade and business.
Through his work at the Center, Wolf has focused attention on export opportunities from Alaska to China. He has led three trade missions to China and for the past nine years has conducted the annual Alaska-China Business Conference. He is now helping to focus attention on business opportunities emerging in the Arctic. Three years ago, he conceived Arctic Ambitions, an annual conference that focuses specifically on trade, commerce and investment activities that will flow from developments in the region. Arctic Ambitions is an international conference that brings together private sector executives and government officials from Arctic nations and other countries.
Prior to joining WTCAK, Wolf served as Director of the State of Alaska's Division of International Trade and Market Development, the agency responsible for promoting Alaska's exports and attracting new business to the state. He was responsible for the formulation and conduct of the State's export promotion efforts and oversaw the State's trade offices in Tokyo, Seoul, Taipei and Sakhalin, Russia.
During his four and a half year tenure, he led the successful effort to introduce Alaska seafood products to the high-end hotel market in Korea. The campaign generated several million dollars of net, new seafood sales, mostly to first-time buyers. Also during his tenure, he was able to move Alaska's trade relations with China forward in a significant way by establishing an Alaska trade office in Beijing.
From 1993 to 1998, Wolf was the Vice President and Director of Overseas Projects for the Anchorage Economic Development Corporation. In this capacity Wolf was responsible for marketing Anchorage's strategic location and other advantages to domestic and overseas companies seeking to relocate or expand their business operations. He also marketed the Anchorage International Airport to overseas cargo and passenger airlines.
Wolf worked in Japan for the State of Alaska from 1991 to 1993. At the State's trade office in Tokyo, Wolf served first as Trade Specialist and then was promoted to Trade Representative. He was the recipient of the Japanese Government Monbusho Scholarship and from 1989 to 1991 and studied the marketing and management techniques of American companies doing business in Japan.
Wolf is active in several trade and civic organizations. He was appointed by then-Secretary of Commerce Donald Evans to serve on the Alaska District Export Council. He is past president of the Japan-America Society of Alaska and a past president, and long-time member, of the Alaska World Affairs Council. He is a member of the Royal Asiatic Society in Hong Kong. Recently, he was appointed the Board of Directors of the Confucius Institute at the University of Alaska in Anchorage.
Wolf attended the University of Colorado and the American College in Paris, France before receiving his Bachelor's degree in Business Administration from Antioch College in 1980. He is a life-long Alaskan, born in Anchorage. His also studied at the Osaka University of Foreign Studies in Osaka, Japan.