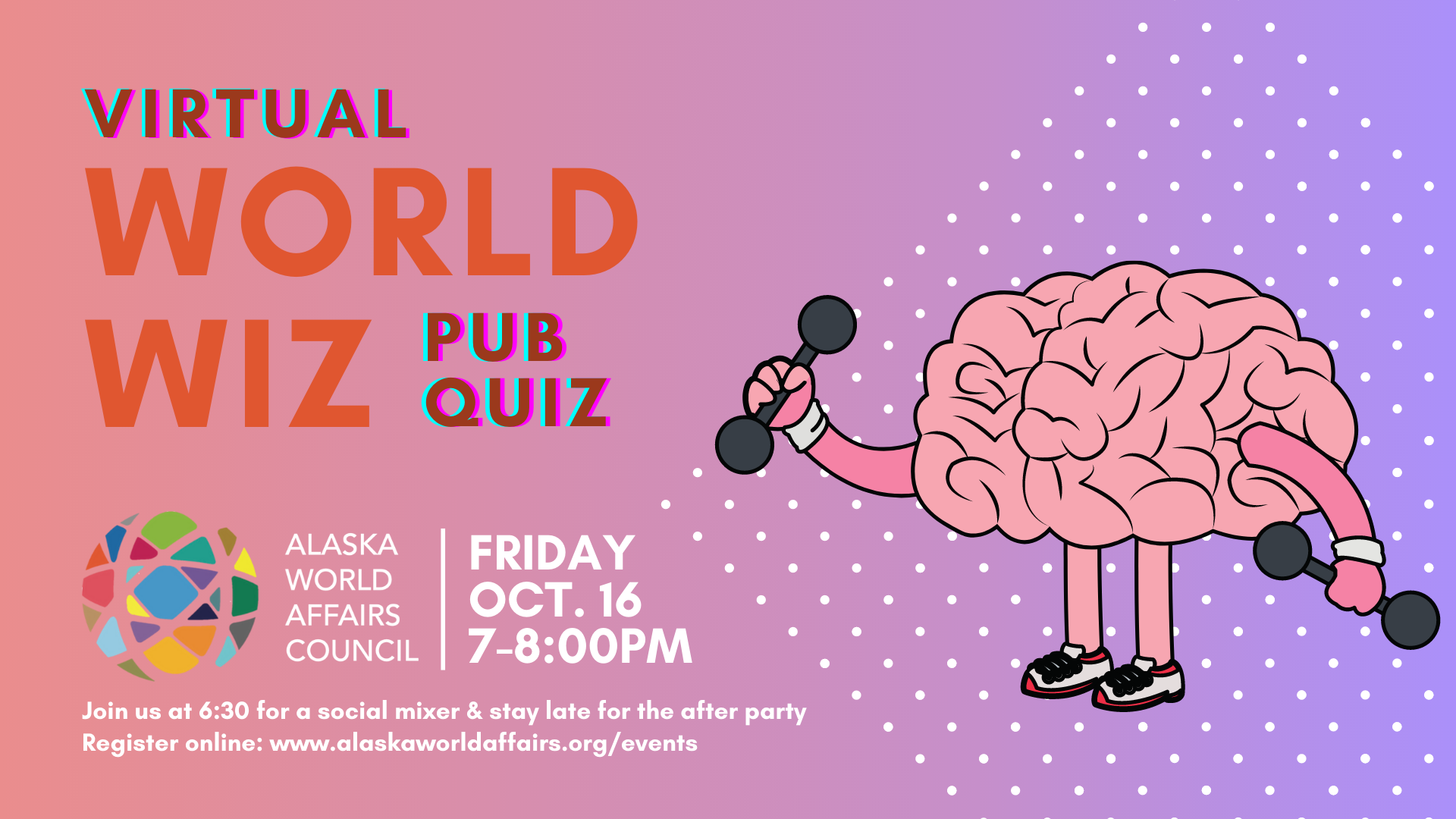 Stay home, grab a drink and join us for a fun-filled evening and test your international trivia knowledge for a chance to win a cash prize! WorldWiz Pub Quiz is the annual fundraiser for the Alaska World Affairs Council and the Academic Student WorldQuest Competition and for the first time ever, it will be hosted virtually!
EVENT DETAILS
This year's event will be held online on Friday, October 16. There will be a mixer before the event, from 6:30-7:00pm and again after the event, from 8:00-8:30pm AKDT.
A mobile device to answer questions is required; however, we recommend two devices so you can follow along with our live stream while answering trivia questions!
There will be 5 rounds with 10 questions each. Individuals/teams will have 30 seconds to answer each question!
Admission: We understand that many people are experiencing hardship due to economic uncertainty. For this reason, this event has a pay what you can structure so everyone can take part in the fun! We appreciate your donation to support programming and student events!
Teams of 1-4 are allowed – will you invite your friends over to help you compete, or challenge them to see who is the biggest world affairs geek?!
First place winner will receive a $200 cash prize and major bragging rights! Second place will take home $100 and third place still wins with a $50 cash prize.
---
TEAM INFORMATION
Play as an individual or gather friends and family to play as a team! We recommend choosing a team within your social bubble where you can play safely from one location. If you're playing with friends remotely, consider competing against each other or plan to have a separate conference call, Zoom meeting, or other video call to discuss the questions together before submitting the team answer (this will require an additional device, there will not be a function within our live event to discuss privately with your team). If you're playing as a team, designate one member to submit answers on behalf of the team.
---
WORLDWIZ QUIZ MASTER – PAUL DUNSCOMB, PHD
Paul Dunscomb is Professor of East Asian History and chair of the History Department at the University of Alaska Anchorage. His nerd super power is, he can articulate stuff. He can take a room full of half baked, half expressed thoughts and turn them into ideas with force and power.
He was the inaugural Director of the UAA Confucius Institute. His book, A Great Disobedience Against the People, Japan's Siberian Intervention, 1918-1922, the first ever complete narrative in English, appeared in February 2011. He is also author of Japan Since 1945 in 2014 for the Association for Asian Studies Key Issues in Asian Studies Series.
His current research focuses on the history of the Heisei period (1989-2018) including the Crisis in Japanese Professional Baseball of 2004 and the nature of change in Heisei Japan. He analyzed debates about Japanese identity during the Lost Decade, 1992-2004, in "Images of What Never Was to Suggest What Might Be; Japanese Popular Culture and Japaneseness," for the edited volume The Dynamics of Cultural Counterpoint in Asian Studies. His work has appeared in The Journal of Japanese Studies, East-West Connections, and Education About Asia.
---
THANK YOU TO OUR SPONSOR