Join us at 5:30pm for a social mixer with our featured storytellers prior to the program start at 6:00pm. Beverages will be available for purchase during the event and social hour. Please plan to arrive earlier if you plan to eat food prior to the program or plan to try 49th State Brewing Co's delicious food after the discussion.

---
Meet our Storytellers…
Amanda Dale

Amanda is happy to be back home in Anchorage after nine years abroad. She is eager to get caught up on local politics, try frisbee golf, and finally learn how to ski. She is inspired by reading, writing, languages, and people.
Sophia Lee

Sophia Lee is originally from Seoul, South Korea, but has called Anchorage as home since 1995. She received her Bachelor in Civil Engineering at UAA in 2012, and has been practicing Civil/Structural engineering ever since. Currently Sophia works as Civil Engineer for the US Air Force at JBER. She is very passionate about Engineering and is involved in many organizations that promote and engage in STEM outreach efforts in Anchorage. Sophia likes to spend her spare time reading, cooking and introducing Korean foods to friends, enjoying the beauty of Alaskan outdoor through hiking and kayaking in summer, and attempted photographing at northern lights in winter times.
OMead Rahmanian

OMead Rahmanian is originally from Iran but called Anchorage home since 2010. He moved to California one and a half months before the late Shah's regime was toppled and Komeini took power in 1979.
As a Baha'i he was barred from higher education and migrated to the US to continue his dreams. After finishing his undergraduate degree in electrical engineering from UC San Diego and working in the engineering field he married the love of his life, Parisa, who is also Persian. He decided with the encouragement of his wife, who just had begun dental school; he can pursue his dreams to enter into the health field and resumed his higher education in Chiropractic School. Love of humanity now had a larger and more meaningful scope for him; that he could also serve their health needs. After practicing in San Diego for 12 years and searching 14 states To find quality life for their children NAVA and NaVead, Alaska won and they sold their respective practices and moved here to start from scratch their life in the last frontier. They call their trips to the Southern California with the traffic, population and pollution their Thanksgiving Trips- they give thanks that they live in Anchorage and not there!
They are both intently and intensely involved in service to the inhabitants of the city and are building neighborhoods alongside others that are spiritually based, socially cohesive community life; welcoming to all.
He loves spending time with the family, in the outdoors, loves to have multicultural friends over for Persian tea, cuisine and Persian dance and of course international dance. He took up photography of nature in Alaska and believes that "in Alaska, you get to appreciate the moment because the next moment is not the same moment; so you better capture this moment"
Timothy Williams

Born and raised in Fairbanks, Alaska, Timothy is 26 years old. He was an archaeologist for eight or so years and currently works at UPS. Timothy loves playing soccer, eating food, and traveling, of course. He considers himself very fortunate to have traveled to a number of places in his lifetime.
Svaja Worthington

Although retired from full-time teaching of English at UAA, Svaja still likes to teach occasionally as she will be doing this summer and coming Fall for UAA at JBER. She also enjoys substituting both in Alaska and New Mexico. Svaja feels being around young people can be energizing, and academia has been a constant in her life since she started to pretend teach and to grade pretend papers as a child. Besides, it gets her off the couch, as they now say "Sitting is the new smoking" especially for the elderly. Svaja continue to translate her grandfather's letters and Lithuanian poetry and to aspire to write about both as well as to keep informed about what's happening in Lithuania as Honorary Consul in Alaska. She is also the granny of 18 grandchildren, and loves to travel having been on 3 European river cruises within the past year.
---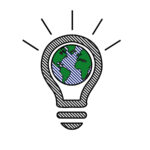 The WorldMatters program series is made possible thanks to the support of BP.
We also very much appreciate the support and guidance of our community partners. Visit the WorldMatters page to learn more about the partner organizations and contact Deputy Director Alyssa Bish to get involved!
The podcast for this event is available through Alaska Public Media, listen in here.