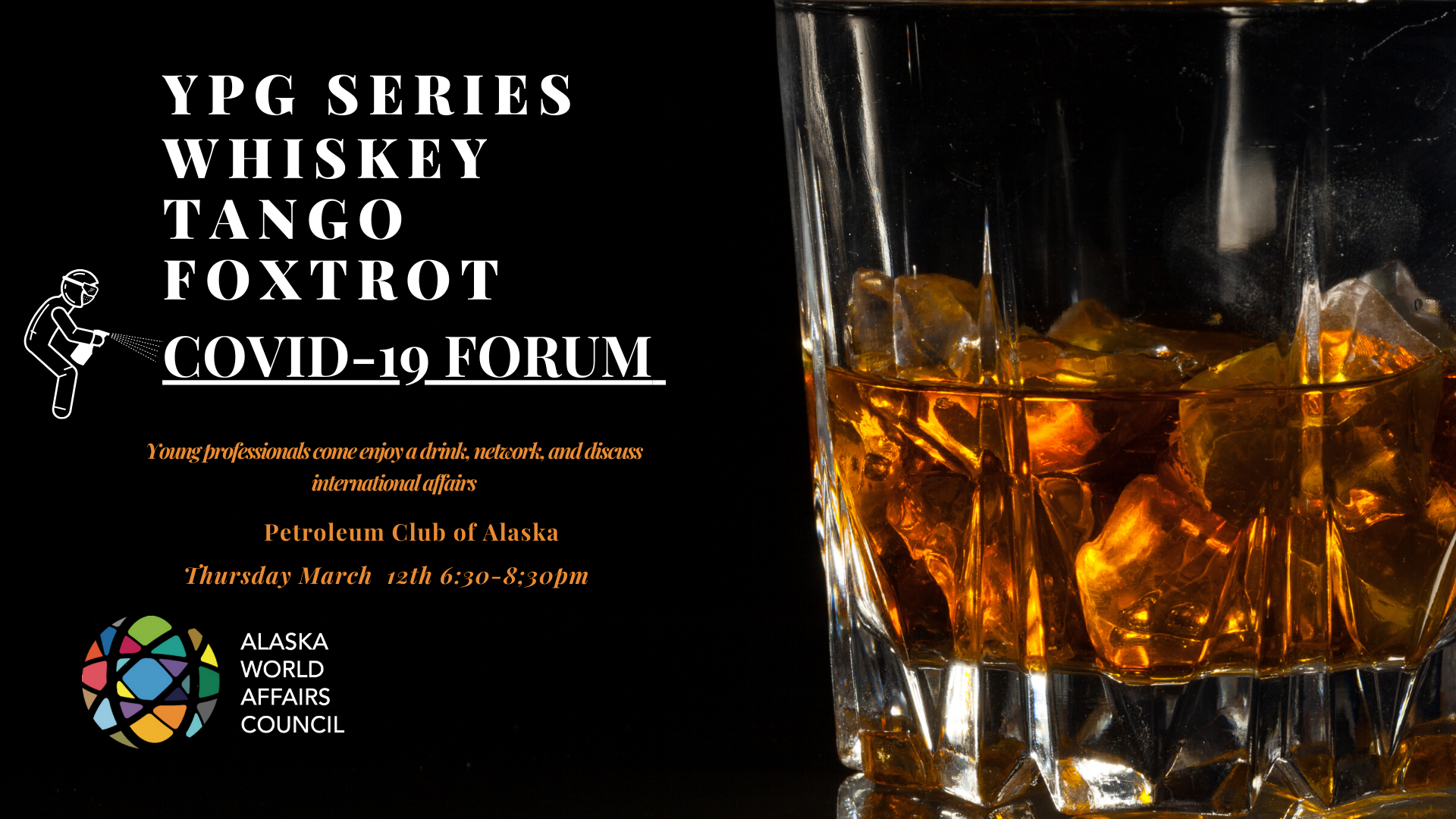 Let's be honest… we are all freaking out, but if we're going to freak out, we might as well do it over a great cocktail.
Alaska World Affairs Council and the Petroleum Club of Anchorage team up to give you an evening of dynamic discussion as a panel of experts share their knowledge and insights on the developing global impact of COVID-19.
Our panel includes,
Ms. Jin Chen– COO/CFO and co-owner of Alaska Skylar Travel
Ms. Jin Chen was born and raised in China. Jin moved to Alaska after her sophomore year at China University of Petroleum. After receiving her bachelor's degree in accounting and her MBA from the University of Alaska Fairbanks, Jin pursued a public accounting career for three years before joining Ms. Skylar Jiang in the spring of 2015 to develop the largest Chinese-focused tour operation in Alaska.  Since she joined the company, Alaska Skylar Travel revenue has grown more than tenfold, and staff has expanded from 10 to 50 employees. Jin serves as an officer on the board of directors of Visit Anchorage and Anchorage Chamber of Commerce, on the Alaska Tourism Industry Association marketing committee, and as Commissioner for Anchorage's Sister City partnership with Harbin, China. She regularly appears as a guest speaker at her alma mater the University of Alaska Fairbanks.
Mr. Sean Murphy– Alaska Regional Hospital Emergency Management Specialist & EMS Liaison.
He's also a member of the Federal Disaster Medical Assistance Team from Boston (DMAT MA-1), a group that deploys to provide rapid-response medical care at fixed or temporary medical care sites when a disaster strikes.
Mrs. Julie Saupe – President and CEO of Visit Anchorage
Julie Saupe has been the President and CEO of Visit Anchorage since 2007; she has worked to develop visitor industry opportunities in Alaska for more than twenty years, including positions at Explore Fairbanks, Travel Alaska, and the Mat-Su Convention & Visitors Bureau.
Dr. Michael Bernstein, M.D.– Regional Chief Medical Officer, Providence St. Joseph Health Alaska
Dr. Michael Bernstein graduated from Harvard University with a bachelor's degree in East Asian studies. He completed his medical residency at the University of Washington in Seattle and served as chief medical resident at UW's University Hospital. He obtained his specialty fellowship training in pulmonary and critical care medicine and research training in immunology and infectious diseases at the University of California, San Francisco before joining its faculty. Dr. Bernstein is regional chief medical officer responsible for oversight of quality, patient safety, telehealth, medical staff affairs, and physician leadership for the Providence St Joseph Health Alaska Region. Dr. Bernstein also serves as the Alaska regional executive overseeing care continuum services, including two skilled nursing facilities, an assisted living facility, homehealth, hospice, and our hospitality hotel.
Young professionals bring your business cards! This is going to be an exciting night of networking, learning, and meeting of the minds! Be sure to reserve your seats now! Our last Whiskey Tango Foxtrot Sold out!
This event is for clients 21 years of age and older.
Details & Schedule (Subject to Change):
Doors open at 6:30 pm
Cocktail Mixer
Attendees will be introduced to our panel
We'll open up the room for discussion/Q&A
6:30 pm – 7:00 pm: Doors open/ Cocktail mixer
7:00 pm – 8:00 pm: Speaker Introduction & Panel
8:00 pm – 8:30 pm:  Q&A, Open and Discussion.