**As a thank you for your continued support, this exclusive event is only open to Alaska World Affairs Members who hold GOLD membership and above, along with those personally invited by the Anchorage Chamber of Commerce, and World Trade Center Alaska.** 
Join Alaska World Affairs Council, the Anchorage Chamber of Commerce, and the World Trade Center in welcoming Vietnam Ambassador to the U.S., Ha Kim Ngoc for a business discussion including Liquefied Natural Gas, fish processing, and Alaska's geographical advantage/proximity to Vietnam.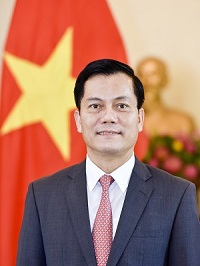 Ambassador Ha Kim Ngoc was born in 1963. He has served in the diplomatic service since 1988 in different positions and has much experience in bilateral and multilateral diplomacy.
He was appointed by President Tran Dai Quang as the sixth Ambassador Extraordinary and Plenipotentiary of the Socialist Republic of Viet Nam to the United States of America in March 2018. He arrived in Washington, D.C. on July 15, 2018 and presented his Credentials to President Donald J. Trump on September 17, 2018.
Ambassador Ha Kim Ngoc served as Deputy Minister of the Ministry of Foreign Affairs (MOFA) in charge of relations with countries in the Americas, especially the United States as well as with the United Nations and other international organizations. A full biography on the ambassador can be found here. 
Those with online reservations do not need to present ticket confirmation at the door, we will have all confirmed attendees on a list at check-in. Please reach out to info@alaskaworldaffairs.org with any questions.