Did you miss this program or would like to listen to it again? Check-out the podcast on Alaska Public Media here.
---
This program is part of the Alaska World Music Festival. For more information about other world music events occurring in the community, please visit the Festival page here.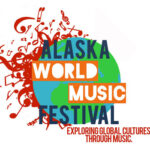 ---
About the group:
The sweet strumming of the ukulele invokes a feeling of island bliss. But one minute of listening to The United Kingdom Ukulele Orchestra will make you realize this isn't flip-flops music. Punk rock, rock and roll, pop music and oldies – you name it, this octet will play it on their ukuleles. The United Kingdom Ukulele Orchestra shatters all stereotypes about this sweet island string instrument and shows you its true toe-tapping awesomeness.
About Ukuleles for Peace:
Peter Moss and all the musicians of the United Kingdom Ukulele Orchestra are delighted to be supporters of the children's project in Israel "Ukeleles for peace", which was founded and realized by the music lecturer Paul Moore several years ago together with both Israeli and Palestinian children.
A part of the wages of the orchestra will be donated every evening to this award winning reconciliation project, in which kids with the help of music and inexpensive musical instruments discover, together with parents and schools, a way forward throughout this war-torn region. "Ukuleles for Peace" is a grass roots project founded by Israeli citizen Paul Moore to familiarize and unite Israeli and Arab children through fun and music.
After years of living through the miserable situation between Israel and the Palestine Arabs, Paul asked himself what he could do to create more opportunities for Jews and Arabs to meet in a positive way. Paul, an internationally acclaimed musician, decided to combine his love for the Ukulele and his experience in teaching music to children to create "Ukuleles For Peace".
Paul is now teaching the Ukulele in Jewish and Arab schools and forming orchestras of children who meet once a week in the Jewish schools and once a week in the Arab schools to practice and then, perform together. The ultimate goal is to have Israeli and Arab school children performing together with the full support and involvement of both parents and school officials.
---
This program is presented in partnership with: