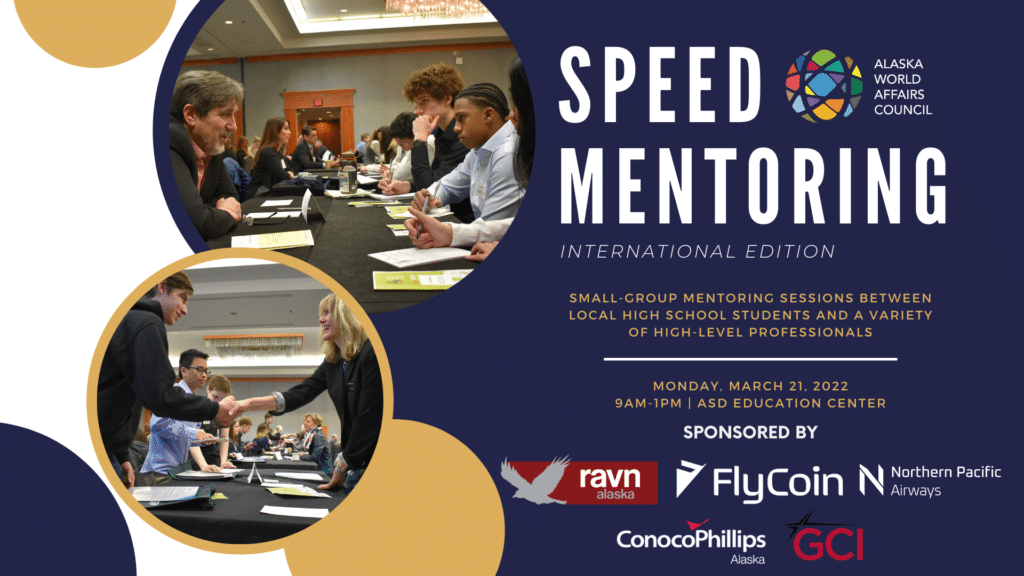 The Alaska World Affairs Council and the Anchorage School District have teamed up to offer a jump start to high school students considering international options in their post-secondary journeys. Students will rotate through 8 minute mentoring sessions with mentors from a wide spectrum of industries with international scope. Check out the success of our past Speed Mentoring events.
Students will have the opportunity to speak with high-level mentors with experience in a variety of fields. Past mentors have included lawyers, judges, architects, medical professionals, oil and gas, diplomats, presidents, CEOs, economists, professors, non-profits professionals and many more. Keep checking back to find out more about the mentors attending!
All students must submit an application to participate in 2022 speed mentoring. The deadline to do so is March 16, 2022.
STUDENT REGISTRATION
Are you interested in becoming a mentor for 2022 Speed Mentoring? Fill out the form below!
MENTOR REGISTRATION
---
Keynote Speakers: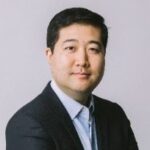 Lenny Moon, Chief Financial Officer of FLOAT Alaska LLC and Chief Executive Officer of FlyCoin. He has extensive experience in high growth start-ups, mergers and acquisitions, and successfully leading companies through operational and financial turnarounds. Lenny was a strategy consultant at Arthur D. Little in the late 1990s, and a venture capitalist at KB Partners in Chicago. From 2006–2012, he was an investment banker with Bear Stearns and Lazard, where he successfully executed M&A, equity, and debt transactions across a variety of sectors. He thereafter served in various chief financial officer roles, including Payoff, a start-up fintech company, and Motorsport Aftermarket Group, a private equity-backed holding company. Lenny received a Bachelor of Science from the University of Illinois at Urbana-Champaign and holds an MBA from Columbia Business School. He serves on the board of directors at HTI, an organization dedicated to freeing victims of human trafficking.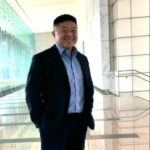 Tom Hsieh, President of FLOAT Alaska LLC, parent company to FlyCoin, Ravn Alaska, and Northern Pacific Airways. Tom began his career in communication technology, joining EarthLink in the 1990s, where he managed engineering and IT functions for over a decade. Tom oversaw Earthlink's growth from a fledgling start-up through its successful IPO on the NASDAQ exchange. Tom's passion for entrepreneurship and innovation has led him to spearhead a number of organizations and initiatives focused on driving social change. He serves on the boards of the Intervalley Health Plan in Pomona, CA; the San Gabriel Valley Economic Partnership; the Los Angeles County Fair Association; and the Claremont Graduate University. An active community member and business leader in southern California, he co-founded FLOAT Shuttle Inc. in 2018, a venture-funded shuttle airline service catering to commuters and corporations in the greater Los Angeles area. In April 2020, Tom was instrumental in the acquisition of Ravn Air Group. Tom received his Bachelor of Science in Physics from Harvey Mudd College and has an Executive MBA from the Peter F. Drucker School of Management. He and his wife, Bree Devones Hsieh, live a purposeful life and are committed to non-profit and civic efforts.
Rob McKinney is chief executive officer of Northern Pacific Airways (dba Ravn Alaska), where he leads a team of 400 employees and manages a growing fleet of aircraft that fly to destinations that will space across the Pacific.  In addition to being a Learjet captain, Rob has over thirty years of airline experience piloting commercial aircraft and managing flight operations.  In 2002, as VP and director of operations at Pacific Wings, a Hawaiian-based commuter airline, Rob oversaw exponential customer growth, tripling passenger traffic during his three year tenure. He thereafter joined Mokulele Airlines in Hawaii as chief operating officer, where he successfully converted the company from a small air touring service into a fully scheduled commuter airline.  Rob returned from Hawaii in 2007 to join SeaPort Airlines, a small startup based in Portland, OR.  As chief operations officer, and later chief executive officer, at SeaPort, Rob established commuter shuttle service between Portland and Seattle. Rob received his BS in Technology from Purdue University and has an MBA from Ellis College/NYIT.  He hails from the state of Indiana.
---
Thank you to our generous event sponsors:
Interested in becoming a featured sponsor for the 2022 Speed Mentoring event? Contact Operations Director Siobhan Choi at siobhan.choi@alaskaworldaffairs.org.