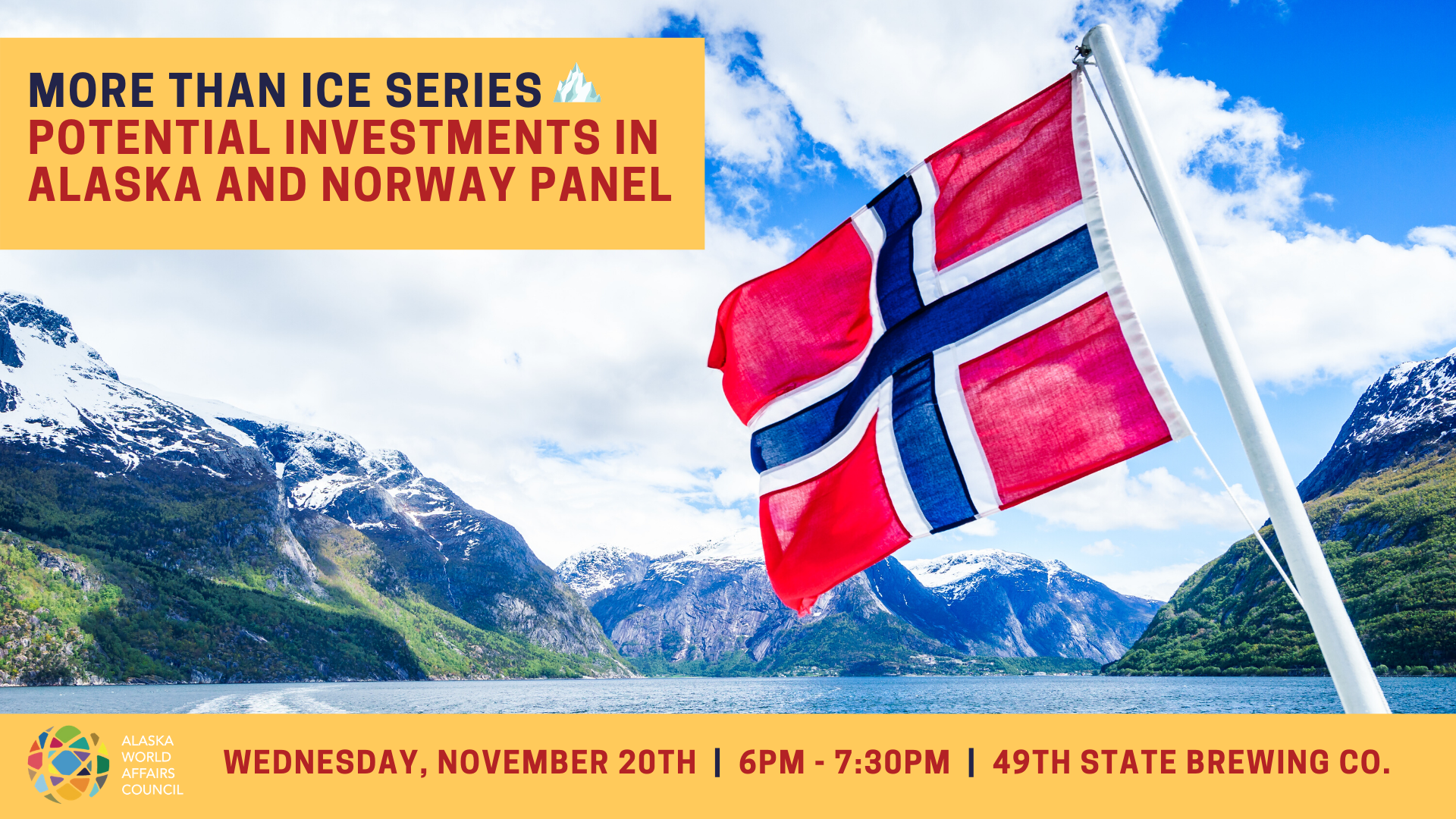 Alaska and Norway share many characteristics including their access to resources and potential for development. Come join us for a thought-provoking panel to discuss these opportunities for investment in Alaska and Norway and get the chance to ask questions to our panelists who have extensive experience in Arctic development.
Confirmed Panelists:
Anu Fredrickson, Director of Arctic Economic Council

Anu Fredrikson is the Director of the Arctic Economic Council (AEC) located in Tromsø, Norway. The AEC is an independent business organization established in 2014. It facilitates Arctic business-to-business activities and responsible economic development. The AEC provides advice and a business perspective to the work of the Arctic Council. Prior to joining the AEC in 2016, Ms. Fredrikson worked as an Advisor in Political Affairs and Arctic Policy at the Embassy of Finland in Oslo. In addition to Arctic policy and trade promotion, her portfolio focused on foreign and security policy, questions related to energy and economy, climate and development policies. Ms. Fredrikson is originally from Oulu, Finland. She has a Master's degree in International Relations from the University of Tampere in Finland and holds a Certificat d'Etudes Politiques from Institut d'Etudes Politiques de Lille in France. She has also studied in the United States and Norway.
Isaac Vanderburg, CEO, Launch Alaska

Isaac is the CEO of Launch Alaska and the fund manager for Launch Alaska Fund II — a $3m fund that invests directly in the accelerators' cohort companies. Isaac has worked with hundreds of early stage companies and entrepreneurs responding to Alaska's food, water, transportation and energy challenges. Isaac's previous roles include State Director at the Alaska Small Business Development Center and Operations Director for Chispa Group (now Afina Holdings) an import-export firm in Philadelphia that specializes in trade between the Delaware Valley and Chile. He completed the Energy Executive Leadership Program at the National Renewable Energy Lab (NREL) in Golden, CO in 2016, as well the Energy Innovation and Emerging Technologies program at Stanford. Vanderburg sits on the Board of Commonwealth North, and leads the Energy & Energy Efficiency subcommittee and the Carbon Pricing subcommittee of Alaska's Climate Action Leadership Team. He played four years of NCAA Division I soccer and served as a Peace Corps Volunteer in El Salvador ('02).

Mead Treadwell, Chairman and CEO, Qilak LNG, a Lloyds Energy Company. Vice Chair, Alaska for Alaska to Alberta Railway. Co-Chair, Wilson Center Pilar Center. Chair, Iridium Polar Advisory Board.

Mead Treadwell has advanced Arctic cooperation, cross-border investment, and environmental protection and marine safety from positions in government, business, and the academy. As Lt. Governor of Alaska, 2010-2014, he continued work he'd begun as Alaska's second highest cabinet official for the environment (1990-1994), and as Commissioner and Chair of the US Arctic Research Commission (2001 appointed by President Bush; 2006-2010 chair under Presidents Bush and Obama) to promote Arctic cooperation with creation of the Arctic Environmental Protection Strategy, the Arctic Council and the Northern Forum.   The Arctic Research Commission led the eight-nation Arctic Marine Shipping Assessment which resulted in the first circumpolar binding agreements on search and rescue, spill response, and adoption of the mandatory Polar Code. As a business leader, Treadwell pioneered cross-border tourism in the Bering Straits region in the late 1980's and early 1990's, after working to open the US-Russia border.   He served as President of Pt Capital, the world's first Arctic focused private equity fund from 2015-2018, which owns assets in Alaska, Iceland and Finland and conducts work in Greenland and Canada.   He was Vice President and Treasurer of Yukon Pacific Corporation, Alaska's first attempt to export North Slope LNG to Asian markets.   As a tech entrepreneur he co-founded two listed firms, including Digimarc (NASDAQ: DMRC), Immersive Media, formerly a TVX listed firm which pioneered StreetView for Google.   He chairs Iridium's Polar Advisory Board, co-chairs the Woodrow Wilson Center's Polar Initiative, the Arctic Circle's Mission Council on Shipping and Ports, and was a member of the World Economic Forum's Global  Action Council on the Arctic.

Matt Ganley, Vice President, Media and External Affairs, Bering Straits Native Corporation

Matt Ganley worked for Bering Straits Native Corporation (BSNC) and Bering Straits Foundation (BSF) since 1993.  He most recently served as Vice President, Media and External Affairs after working as VP Land and Resources, Executive VP of Bering Straits Foundation (BSF), and Staff Anthropologist for Bering Straits Foundation.   During his career with BSNC and BSF he worked in cultural resource related issues (repatriation, site documentation and preservation), resource development, renewable energy projects (geothermal), Land Claims transfers and special Federal legislation related to the corporation's ANCSA land entitlement.  Since 2010 he has been working on behalf of the Corporation to secure the transfer of Point Spencer/Port Clarence, and is currently evaluating and advocating for sustainable port systems development in the American Arctic. He currently works for BSNC as a consultant on special projects.
Moderated by Lise Falskow, President and CEO of the Alaska World Affairs Council

Lise Falskow was born and raised in Alaska and holds a degree in Economics and Accounting from Claremont McKenna College. She worked as a CPA in Seattle, Washington and Zurich, Switzerland. She then helped establish a Financial Analyst Group for the Energy Division of a major oil company in Oslo, Norway. As a dual Norwegian and US Citizen, her interest in world cultures has taken her to many exciting places, including her return to Anchorage, Alaska where she is the Royal Norwegian Honorary Consul for Alaska. Lise is a member of the Anchorage Chamber of Commerce Athena Society and was named one of Anchorage's Top 40 Under 40. With close ties to the local community, she was recently appointed as the Honorary Commander of the F-22 fighter unit, known as the Dicemen.
---
Program Details
Check-in will begin at 5:30pm with seating available on a first-come first-serve basis. The program will begin at 6:00pm
Those with online reservations do not need to present ticket confirmation at the door, we will have all confirmed attendees on a list at check-in.
Food and drink is available for individual purchase directly from 49th State Brewing Company. If you wish to order food, please come a few minutes early to ensure your meal arrives during the program.
Online registration closes at 3:00 pm on November 120. Tickets will be available for purchase at the door the next day, unless the program is sold out. Contact rsvp@alaskaworldaffairs.org with any questions.