Speaker Bio: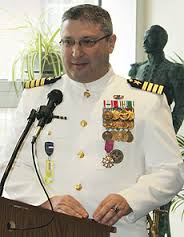 Captain Gary (Yuri) Tabach was born in Moscow, USSR and lived there until 1976 when his family immigrated to Philadelphia, Pennsylvania. Upon graduation from Temple University School of Pharmacy in 1985, he was commissioned an Ensign in the U.S. Navy. Captain Tabach holds the distinction of being the first Soviet-born citizen to be commissioned an officer in the Armed Forces of the United States.
Captain Tabach's Navy career is a highly distinguished one, serving a number of critical roles over the past two decades. In 1991, Captain Tabach was assigned to the Department of State as an Adviser to US Ambassador and Special Presidential Envoy to the former Soviet Union. His next role was in the US Embassy in Moscow as a member of the Prisoner of War – Missing in Action Commission. This organization searched for U.S. POWs and MIAs in the former Soviet Union. Captain Tabach then served as a Chief Military Information Officer for the United Nations Military Observer Mission in Georgia. His team successfully negotiated the hostage release of UNOMIG personnel.
Captain Tabach served as a chief in the Arms Control Implementation Unit at the U.S. Embassy in Almati, Kazakhstan. Throughout the 2000's, Captain Tabach served as a Program Manager in the Defense Threat Reduction Office at the U.S. Embassy in Moscow and then as a Naval Affairs Officer, at the U.S. Embassy in Warsaw, Poland. Then, from 2006 to 2008, he acted as the first U.S. Deputy Director at the Defense Against Terrorism Center Of Excellence in Ankara, Turkey. There he led an international staff of 90 officers from 7 different NATO countries.
At the end of his esteemed career, Captain Tabach served as Chief of Staff for the NATO Military Liaison Mission in Moscow, Russia. There he acted as the liaison between NATO's Military Committee and the Ministry of Defense of the Russian Federation. He has since retired from the Navy in 2011.
Captain Tabach has accrued many personal awards throughout his career including: Defense Service Medal, Legion of Merit, four Joint Defense Meritorious Service Medals, Defense Meritorious Service Medal, two Joint Commendation Medals, United Nations Medal, Navy Commendation Medal, Meritorious Honor Award, Joint Achievement Medal and two Naval Achievement Medals.
Captain Tabach earned an MBA degree from Jacksonville University in 1992. He is married to his childhood sweetheart Irine Volis-Tabach and they have two children Michelle (22) ENS, U.S. Navy and Eric (16).
---
Moderated by Russ Howell.
Howell is the former Director of the American Russian Center, University of Alaska Anchorage. From 1993 to 2009 ARC conducted more than 2200 business training, civil society development, and educational exchange programs in Anchorage through seven small business training centers in the Russian Far East. In that 16 year period over 60,000 participants and entrepreneurs completed ARC training courses on a variety of topics from banking to retail sales, airport management and marketing. Prior to his time at UAA Russ served 21 years as an Infantry officer and a Foreign Area Officer in the US Army analyzing events in the former Soviet Union for senior military and civilian leaders in Washington DC. He holds a Bachelor of Science degree from the US Military Academy at West Point and a Masters degree in International Relations from the University of Southern California. He is also a graduate of the US Army Russian Institute, the US Army Command and General Staff College and other military training. Following his service at UAA he worked briefly as a project officer at the Northern Forum and now spends his time fighting a losing battle trying to convince his grandchildren that age and cunning beat youth and enthusiasm.
---
If you are a teacher who would like to bring a student group to a program, please visit our student page for more information, and contact us about accommodating your group at rsvp@alaskaworldaffairs.org. Please do not register students individually using the form below.
---
If you would like to access the podcast for this program, which is kindly provided by Alaska Public media, please click here.