Speaker Bio:
Eric Trager, the Esther K. Wagner Fellow at The Washington Institute, is an expert on Egyptian politics and the Muslim Brotherhood in Egypt. He was in Egypt during the 2011 anti-Mubarak revolts and returns frequently to conduct firsthand interviews with leaders in Egypt's government, military, political parties, media, and civil society. His writings have appeared in numerous publications, including the New York Times, Wall Street Journal, Foreign Affairs, the Atlantic, and the New Republic.
Trager is the author of Arab Fall: How the Muslim Brotherhood Won and Lost Egypt in 891 Days (Georgetown University Press, 2016) which chronicles the precipitous rise to power of Egypt's Muslim Brotherhood, culminating in the election of President Mohamed Morsi in 2012, and its sudden demise just a year later. The book also assesses the current state of Egyptian politics and the prospects for a reemergence of the Brotherhood.
Dr. Trager has served as an adjunct professor at the University of Pennsylvania, where his doctoral research focused on Egyptian opposition parties. From 2006-2007, he lived in Egypt as an Islamic Civilizations Fulbright fellow, where he studied at the American University in Cairo and received his M.A. in Arabic studies with a concentration in Islamic studies. He served as a research assistant at The Washington Institute from 2005 to 2006 upon graduation from Harvard University with a degree in government and language citations in Arabic and Hebrew.
---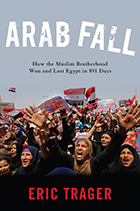 How did Egypt's Muslim Brotherhood win power so quickly after the dramatic "Arab Spring" uprising that ended President Hosni Mubarak's thirty-year reign in February 2011? And why did the Brotherhood fall from power even more quickly, culminating with the popular "rebellion" and military coup that toppled Egypt's first elected president, Brotherhood leader Mohamed Morsi, in July 2013? In Arab Fall, Eric Trager examines the Brotherhood's decision making throughout this critical period, explaining its reasons for joining the 2011 uprising, running for a majority of the seats in the 2011-2012 parliamentary elections, and nominating a presidential candidate despite its initial promise not to do so. Based on extensive research in Egypt and interviews with dozens of Brotherhood leaders and cadres including Morsi, Trager argues that the very organizational characteristics that helped the Brotherhood win power also contributed to its rapid downfall. The Brotherhood's intensive process for recruiting members and its rigid nationwide command-chain meant that it possessed unparalleled mobilizing capabilities for winning the first post-Mubarak parliamentary and presidential elections. Read more here.
---
If you are a teacher who would like to bring a student group to a program, please visit our student page for more information, and contact us about accommodating your group at rsvp@alaskaworldaffairs.org. Please do not register students individually using the form below.
---
To listen to the podcast for this program, courtesy of Alaska Public media, please click here.