This unique program will feature the documentary, America's Diplomats, followed by a live Q&A with Ambassador John Yates. Those interested in diplomacy as a potential career as well as those who love learning about and engaging with America's history, will not want to miss this program — register today and invite your friends!
---
About the film – America's Diplomats:

Narrated by Kathleen Turner, America's Diplomats explores the role of the Foreign Service – from Ben Franklin to Benghazi – through stories of individual diplomats and their families. After decades of war, America is turning to her Foreign Service more than ever to confront global challenges. From preventing war to promoting economic interests, we reveal the sacrifices made by those working behind the scenes of American foreign policy.
Why this film is important:
Covering hundreds of years of U.S. foreign policy, America's Diplomats explores the significance of diplomats in American history. Get a look at the U.S. Foreign Service from the inside and learn about the challenges, dangers, and rewards of being an American diplomat.
The film illustrates the historic contributions of American diplomacy to the welfare and security of the United States. It traces the development of the Foreign Service of the United States and describes the challenges and achievements of contemporary American diplomacy. It includes interviews with Foreign Service Officers, Secretary of State John F. Kerry, and former Secretary of State James A. Baker, III.
---
Ambassador John M. Yates (Retired)

Secretary of State Condoleezza Rice appointed Ambassador (ret.) John M. Yates as Special Envoy for Somalia on May 17, 2007. As Special Envoy, Ambassador Yates will play a critical role in engaging with representatives of Somalia's Transitional Federal Government, other key stakeholders, and regional and international partners to assist Somalia with creating a stable government as it emerges from over 14 years of instability and lawlessness.
Ambassador Yates, who is currently leading the Somalia Unit based at the U.S. Embassy in Nairobi, Kenya comes to this post with considerable experience, having represented the U.S. as an observer to the Somalia National Reconciliation Conference at Mbagathi, Kenya, that established the Transitional Federal Charter and the Transitional Federal Institutions, which serve as the framework for the reestablishment of governance in Somalia.
A career Foreign Service Officer with more than 40 years experience, Ambassador Yates was one of the Department's leading Africa specialists prior to his retirement in 2002. He served as Ambassador to Cameroon and Equatorial Guinea (1998 – 2001); Ambassador to Benin (1995 – 1998); Ambassador to Cape Verde (1983 – 1986); and as Charge d'Affaires in Zaire (1993 – 1995). He also was Deputy Chief of Mission in Lagos, Nigeria, and Libreville, Gabon with concurrent responsibility for Sao Tome & Principe. Other assignments in Africa include Algeria, Malawi and Mali. Most recently, Ambassador Yates was designated as the head of the U.S. delegation to the Darfur, Sudan peace talks, which took place in Abuja during 2005 and 2006. In 2003, he served as the Senior Advisor for Africa at the U.S. Mission to the United Nations.
Non-African assignments included service in the Philippines, Turkey, and in India as Staff Assistant to former Ambassador Daniel Patrick Moynihan. He also was the Acting Director of the African Affairs Office of the Department's Bureau of Intelligence and Research in 2002.
Ambassador Yates received his B.A. in International Relations from Stanford University. He earned a Master's degree in International Affairs, a Master's degree in Law and Diplomacy, and a PhD in Law and Diplomacy, all from the Fletcher School of Law and Diplomacy, Tufts University.
Ambassador Yates is fluent in French and Portuguese.
---
The Alaska World Affairs Council would like to thank sponsor, BP, for making it possible for this program to host over 300 students! Thank you, BP!
We also thank the American Academy for Diplomacy for supporting this program and making the film available for viewing.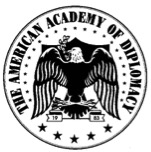 To listen to the podcast for this event, courtesy of Alaska Public Media, please click here.