On March 9th, AKWorld hosted a panel discussion as part of the WorldMatters series. The panel featured Janet Weiss, President of BP Exploration (Alaska) Inc., and Jenna Desmarais, Materials Management Advisor for the Point Thompson Project at ExxonMobil. The discussion was guided by moderator Katherine Barnes and focused on the experiences of the panelists pursuing careers in the Science, Math, Engineering, and Technology (STEM) fields. They discussed the challenges they faced as well as their achievements and shared the stories of how they came to pursue those fields. The panel engaged with more than 50 Alaskans, who were all eager to learn more and to continue talking with Janet, Jenna, and Katherine.
For more information about the panelists, visit the archived event page.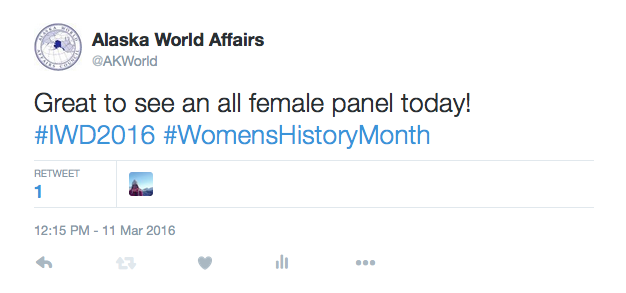 Did you know AKWorld live tweets many of its programs and often conversations are sparked that continue online? Follow us on Twitter for highlights from past programs and to join the next conversation!