The Alaska World Affairs Council Presents
Haroon Moghul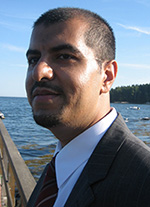 Fellow in Muslim Politics and Societies at the Center on National Security at Fordham Law
"Can America and the Muslim World be Friends?"

We commonly think of Islam and the West as opposing forces, and we even hear some insist we live in a never-ending clash of civilizations. But the West and the Muslim world have a long shared history, many common ideas, and, following the Arab Spring, the potential for a new relationship. As we transition to a multipolar world, Muslims may be America's most unexpected allies.
Friday, 6th April, 2012 – Hilton Hotel
Doors open at 11:30 a.m. – Program begins at 12:00 p.m.
For Reservations
RSVP by Wednesday, 4th April
to the Alaska World Affairs Council
by telephone 276-8038 or
by email to info@AlaskaWorldAffairs.org .
Lunch Program $25 for Members – $30 for Non-Members – $15 for Coffee and Dessert
Haroon Moghul is a doctoral candidate at Columbia University, studying the birth of the modern Muslim world. He is the Fellow in Muslim Politics and Societies at the Center on National Security at Fordham Law and is on the Board of the Multicultural Audience Development Initiative at the Metropolitan Museum of Art in New York.
Haroon is an Associate Editor and columnist at Religion Dispatches; his writing has also been featured on al-Jazeera and The Huffington Post. In his novel, "The Order of Light" (Penguin 2006), young Muslims light themselves on fire to protest the authoritarian reality of the Middle East, an eerie forecasting of today's events.
Haroon has been interviewed on CNN, BBC, NPR and The History Channel. He is a Senior Editor at the Islamic Monthly and a Fellow at the Institute for Social Policy and Understanding. He serves as an expert guide to the Muslim heritage of Spain, and will be leading historical tours of Spain, Turkey, and Bosnia, in 2012.
This program is sponsored by the ICCAA, the Islamic Community Center Anchorage, Alaska.