The Alaska World Affairs Council Presents
Lieutenant General Dana T. Atkins
AK NORAD Commander
And
Lieutenant General Duval
Deputy Commander,
North American Aerospace Defense Command,
Peterson AFB
Panel discussing
"Canada-US Military Collaboration in the Arctic"
Friday, 30th July 2010 – Hilton Hotel
Doors open at 11:30 p.m. – Program begins at 12:00 p.m.
For Reservations RSVP by Wednesday, 28nd July to the Alaska World Affairs Council
by telephone 276-8038 or by email to AlaskaWorldAffairs.org .
Dinner Program $25 for Members – $30 for Non-Members – $10 for Coffee Only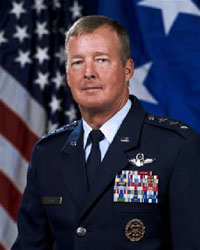 LIEUTENANT GENERAL DANA T. ATKINS
Lt. Gen. Dana T. Atkins is Commander of Alaskan Command, Alaskan North American Aerospace Defense Command Region, Joint Task Force Alaska and 11th Air Force, with headquarters at Elmendorf Air Force Base, Alaska. He is the senior military officer in Alaska responsible for the integration of all military activities in the Alaskan theater of operations. As Commander of Alaskan Command, a sub-unified command under Pacific Command, General Atkins integrates the activities of more than 21,000 active-duty, Guard and Reserve members from all services in Alaska. General Atkins also commands Eleventh Air Force and oversees the training and readiness of two wings and Air Force installations located throughout the state. As commander of the Alaskan North American Aerospace Defense Command Region, General Atkins directs air operations within Alaska to ensure defense against all hostile airborne threats. Reporting to U.S. Northern Command, General Atkins is the commander of Joint Task Force Alaska and is responsible for the planning and execution of all Homeland Defense operations within the theater, including security and civil support actions.
After serving a year as an enlisted member, General Atkins received a four-year ROTC scholarship to the University of Portland in Oregon where he earned his Air Force commission. During his career, General Atkins has flown as a demonstration pilot for the European A-10 demonstration team and the U.S. Air Force Demonstration Team, the Thunderbirds. The general has commanded a fighter squadron, an operations group and two fighter wings, and served as Vice Commander, 7th Air Force and U.S. Air Forces Korea. He has also served on both major command and joint staffs.
The general was special assistant to the Supreme Allied Commander Europe during the air war over Serbia. He was involved in all aspects of the Kosovo campaign planning and execution, to include pre-war diplomatic negotiations in Belgrade. General Atkins is a command pilot with more than 4,000 hours in fighter aircraft.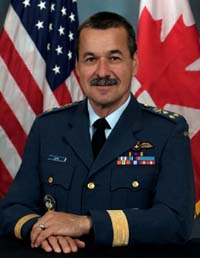 Deputy Commander, North American Aerospace Defense Command, Peterson AFB
Born in Baie St. Paul, Quebec, Lieutenant-General Duval enrolled in the Canadian Armed Forces in 1975. He underwent pilot training, graduating in 1977 as a CH135 Twin Huey helicopter pilot.
In addition to tours at Valcartier, Quebec and Gagetown, New Brunswick, he also completed a three year staff tour at 10 Tactical Air Group in St-Hubert, Quebec. Upon graduation from Command and Staff College in 1989, he returned to Gagetown as the Deputy Commanding Officer and Chief Flight Instructor of the 403rd Squadron, later assuming command of the squadron for an eight-month period.
As a Lieutenant-Colonel in 1992, he served at the United Nations Headquarters in New York as an Assistant Military Advisor with the Department of Peacekeeping Operations. Following graduation from the U.S. Air Force Air War College in 1995, he assumed command of 408th Tactical Helicopter Squadron in Edmonton, Alberta, which included a six-month UN peacekeeping tour in Haiti.
In 1997, Lieutenant-General Duval was promoted to Colonel and posted to the Multinational Force and Observers in the Sinai Desert, Egypt, where he served as the Canadian Contingent Commander and the Chief of Operations and Liaison, as well as Canadian Contingent Commander Middle East.
Lieutenant-General Duval returned to Canada in 1998 to serve with the Privy Council Office as Director of Operations in the Foreign and Defense Policy Secretariat in Ottawa. Two years later, he was appointed Commander of 1 Wing in Kingston, Ontario, a position that placed him in charge of Canada's Tactical Aviation fleet.
He returned to Ottawa in 2003 as Director of Air Staff Coordination at National Defense Headquarters. Promoted to Brigadier-General in 2004, he assumed the position of Deputy Commander for the Continental United States NORAD Region at Tyndall Air Force Base, Florida. He was promoted to Major-General in 2007 and returned to Canada to take Command of 1 Canadian Air Division, Canadian NORAD Region. In January 2009, he was appointed Commander within the Order of Military Merit.
Lieutenant-General Duval assumed his current position on July 10, 2009.