The Alaska World Affairs Council Presents
Hsiu-lien Annette Lu
Former Vice President, R.O.C. (Taiwan)
"Perspective on Asia-Pacific Development"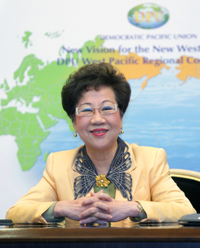 Tuesday, 6th July 2010 – Hilton Hotel
Doors open at 5:30 p.m. – Program begins at 6:00 p.m.
For Reservations
RSVP by Friday, 2nd July to the Alaska World Affairs Council
by telephone 276-8038 or by email to AlaskaWorldAffairs.org .
Dinner Program $25 for Members – $30 for Non-Members – $10 for Coffee Only
Lū Siù-liân; born June 7, 1944, a Taiwanese politician, is a former Vice President of the Republic of China (Taiwan) and member of the Democratic Progressive Party. Lu is a prominent feminist activist and became the first female vice president in 2000. She announced her intentions to run for president on March 6, 2007, but withdrew in order to rally behind DPP presidential nominee, Frank Hsieh. She is one of Taiwan's independence advocates.
Lu was born in Taoyuan County, in northern Taiwan, during Japanese rule. After graduating from Taipei First Girls' High School, she studied law at the National Taiwan University. Graduating in 1967, she went on to gain a master's degree from the University of Illinois at Urbana-Champaign and an LLM degree from Harvard University.
During the 1970s Lu established herself as a prominent feminist advocate in Taiwan. Surviving throat cancer in 1974, she spoke at the rally that precipitated the Kaohsiung Incident and was subsequently sentenced to 12 years for sedition. She served five years and four months before being given a medical parole due to thyroid cancer. She was elected to the Legislative Yuan in 1993. In 1997 she won an election to be a magistrate in Taoyuan, replacing her predecessor, who was murdered.
On March 18, 2000, Lu was elected Vice President. She was awarded the World Peace Corps Mission's World Peace Prize in 2001. Chen nominated Lu to run for a second term and she was reelected in 2004. In 2008, Lu was a contender for the presidential election. After receiving only 6.16% of the votes cast in the DPP primary, Vice President Lu withdrew from the race.
Education:
Honorary Doctorate, University of Dr. José Matías Delgado, Republic of El Salvador, 2005
Honorary Doctorate, University of San Carlos, Republic of Guatemala, 2004
Honorary Doctorate, National Asuncion University, Republic of Paraguay, 2002
Honorary Doctorate, Central American Technological University, Republic of Honduras, 2000
LL.M., Harvard University, USA, 1978
L.L.M. in Comparative Law, University of Illinois at Urbana-Champaign, USA, 1971
National Taiwan University Graduate School of Law, graduated first in class, 1968
LL.B., National Taiwan University, ROC, 1967
Career Highlights:
President of Formosa Media
President of IFBPW, Taiwan
Chair of Democratic Pacific Union
Eleventh-term Vice President, ROC, 2004-2008.05.19
Tenth-term Vice President, ROC, 2000-2004
Magistrate, Taoyuan County, 1997-2000
National Policy Advisor to the President, 1996-1997
Legislator, Legislative Yuan, 1993-1996
Executive Officer, Specialist, and Section Chief (concurrent), Executive Yuan, 1971-1974