The Alaska World Affairs Council Presents
Brad Gordon, AIPAC Director of Policy and Governmental Affairs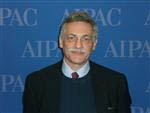 "A Nuclear Iran: How large and how imminent a threat?"
Tuesday, 28th September 2010 – Hilton Hotel
Doors open at 5:30 p.m. – Program begins at 6:00 p.m.
For Reservations
RSVP by Friday, 23rd September to the Alaska World Affairs Council
by telephone 276-8038 or by email to AlaskaWorldAffairs.org .
Dinner Program $25 for Members – $30 for Non-Members – $10 for Coffee Only
Mr. Gordon is the American Israel Public Affairs Committee Director of Policy and Government Affairs, a position created in Oct. 2005. He is responsible for guiding AIPAC's policy development, lobbying, research, and policy communications activities. He had been AIPAC's Legislative Director since January 1995. From February 1993 to January 1995, he was Staff Director of the International Operations Subcommittee of the House Foreign Affairs Committee. The Subcommittee, chaired by Rep. Howard Berman (D-CA), oversaw the operations of the Department of State, the Agency for International Development, the Arms Control and Disarmament Agency, and the U.S. Information Agency.
From March 1990 to January 1993, Mr. Gordon was Assistant Director of the U.S. Arms Control and Disarmament Agency for Nonproliferation Policy. He was responsible for issues related to the proliferation of nuclear, chemical, and biological weapons and the missiles to deliver them. Mr. Gordon was also U.S. Ambassador to the Fourth Review Conference of the Treaty on the Non-Proliferation of Nuclear Weapons (NPT) held in Geneva in August and September 1990.
Between 1985 and 1989, Mr. Gordon was legislative advisor for foreign policy to Senator Rudy Boschwitz (R-MN), and between 1985 and 1987 was the professional staff member of the Senate Foreign Relations Committee responsible for the Middle East and South Asia.
Mr. Gordon worked as a political analyst at the Central Intelligence Agency from 1979 to 1985 in the office of Near Eastern and South Asian Analysis.
Mr. Gordon graduated cum laude and with Honors in Politics from Brandeis University in 1971. He received a Master of Arts degree in political science in 1974 from the University of Vermont. He received a Masters of Philosophy degree from Columbia University in 1978 and a Certificate from its Middle East Institute in 1977. While at Columbia, Mr. Gordon was a National Defense Foreign Language Fellow in Arabic and was selected Research Assistant for its Middle East Institute.
Mr. Gordon is married and has three children.