The Alaska World Affairs Council and

Presents
2010 National Conference
"U.S. Foreign Policy: Into the Next Decade"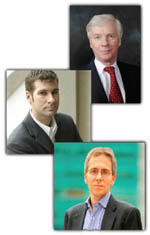 November 4-5, 2010
The Renaissance Mayflower Hotel
1127 Connecticut Avenue, N.W.
Washington, D.C. 20036
Please join us and other globally-minded citizens from across the country at our
2010 National Conference in Washington, DC to engage in global issues and discoverNational Conference Speakers world cultures. This year's theme, U.S. Foreign Policy: Into the Next Decade, provides participants exclusive insight on the critical linkages between four main areas of US Foreign Policy: Defense & Security, Human
Security, Economics, and the Environment. The national conference, our signature event, has earned a reputation as the place to meet and engage with leading national and international personalities and policymakers.
The World Affairs Councils of America is the largest grass-roots foreign policy organization in the United States with a mission to educate, inspire and engage
Americans in international affairs and the critical global
issues of our time.