The Alaska World Affairs Council is a focused educational organization dedicated to stimulating interest in world affairs and inspiring its members to be involved in world events.
The council was founded in 1958 by the late Evangeline Atwood with the conviction that better community education in world affairs is necessary for sound democratic citizenship. The Council does not take a stand on current-day issues but rather provides the population a wide spectrum of viewpoints and background information through its diverse range of programs and activities. The Alaska World Affairs Council is a 501 (c) 3 non-profit, non-partisan organization which is membership-based and is one of approximately 90 members of the World Affairs Councils of America in Washington, DC.
---
About AKWorld Founder: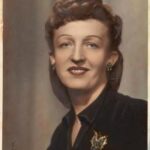 Maud "Evangeline" Rasmuson Atwood was born in Sitka in 1906 to missionary teachers Jenny and Edward Rasmuson, who lived at Yakutat. Evangeline earned a B.A. from the University of Washington and an M.A. in social services administration from the University of Chicago. She met newspaper man Robert Atwood in Springfield, Illinois and married him in 1932. In 1935, they moved to Anchorage to become owners and operators of the Anchorage Daily Times, later the Anchorage Times.
Evangeline Atwood turned her energies into community and public service after the birth of her daughters. While Anchorage was growing in the 1940s and 1950s, Evangeline worked to ensure that civic organizations were in place to influence development. For over 50 years, she played a leading role in more civic organizations and public enterprises than perhaps anyone else in her time.
Evangeline Atwood's interest in Alaska history, politics and journalism led her to write seven books and in 1967, she received an honorary Doctor of Literature degree from the University of Alaska, and the following year was elected to the Alaska Press Club's 49er Hall of Fame. For her efforts, the Alaska Historical Society named her Historian of the Year in 1975. In 1981, she was named Alaskan of the Year in a statewide poll. In 1982, she was awarded an honorary Doctor of Humane Letters degree from Alaska Pacific University. Additionally, the Atwood Concert Hall, the largest theater in the Alaska Center for the Performing Arts in Anchorage, is named for Evangeline Atwood.