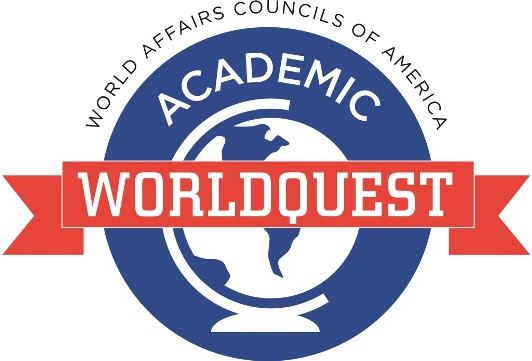 Saturday, February 11, 2017, 5:30 PM to 9:00 PM
What is it?
One of the greatest challenges facing our nation and our schools across the country is preparing our youth for the globally interconnected world of the 21st century. America's ability to face the economic and security challenges of the 21st century and seize new opportunities is dependent on an educated and informed citizenry and workforce. Academic WorldQuest is a unique opportunity to expose our youth to the world outside our borders and prepare them for these challenges and opportunities.
This academically rigorous competition tests the global knowledge of high school students and adult team participants on topics including: Privacy in the Digital Age, NATO, International Trade and Finance, the Arctic, Food Security, and more!
2nd Place: MatSu Career & Technical High School Team #1
3rd Place: MatSu Career & Technical High School Team #3
Support WorldQuest
History
Academic WorldQuest was invented by the World Affairs Council of Charlotte and is now widely played at the adult and high school levels around the country. It is a team competition testing competitors' knowledge of international affairs, geography, history, and culture. Participants come from high schools that work with the World Affairs Council network.
Why is it important?
Preparing the next generation of American decision-makers and opinion leaders to thrive in tomorrow's world, where our national interests and policies are deeply intertwined with those of the greater global community, requires that we close the gap in students' knowledge about global affairs and restore American excellence in science and math. Research is showing troubling signs. American students are performing well below students in other developed nations in science and math and are also lacking in basic knowledge of world history, international geography and global issues. The mission of Academic WorldQuest is to help close this gap while also providing students with a fun and engaging way to learn about the world.
Program Structure
During the academic year preceding the National Competition in the spring, approximately 4,000 students across the country participate in local competitions hosted by over 40 local World Affairs Councils in 26 states. A study guide is provided with detailed resources on each of the categories to help students and teachers to prepare for the competition. All questions for the competition are drawn from the resources in the study guide. Winning teams are invited to represent their high school, city, and local council at the National Competition, held in the spring each year in our nation's capitol, Washington, DC. This special weekend includes the competition as well as substantive programming planned to enhance the global education experience.
For more information about the National Worldquest Competition, click here.
Support WorldQuest
2016-2017 Topics
Current Events
Great Decisions
Peace and Conflict in Today's World
Combating Infectious Disease
The European Union
Countering Violent Extremism
Turkey
Global Megacities
China
Women in Technology
Click here to download the 2016-2017 Study Guide.
How can adults get involved?
Attend WorldQuest
Encourage your high school student to talk to their teacher about participating in WorldQuest. Not all schools have WorldQuest teams but teams can be formed by any four high school students who are interested with a parent/guardian as the chaperone. Please contact our office if you have questions about your school's participation in WorldQuest or how to form an independent student team.
Donations are very welcome and can be submitted by mailing a check to:
Alaska World Affairs Council
406 G Street, Suite 207
Anchorage, AK 99501
To make an online donation:
Support WorldQuest
Anchorage businesses can support WorldQuest by becoming an event sponsor or making in-kind donations of cool items to give away to students as prizes. Contact Alyssa Bish for more information on becoming a sponsor or making an in-kind donation.
Informational Materials
Download the Student Team Application.
Download the Student Study Guide by clicking here.
Download the Participant Guide here.