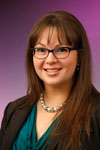 Ms. Fenton is the Health, Safety, Environmental, and Regulatory Coordinator for Alaska at Statoil Exploration and Production.  Her role involves regulatory coordination and compliance, Arctic policy, corporate safety/security/sustainability, baseline science, risk assessments, and impact evaluations.
Jocelyn holds a Bachelor of Science in natural science and a Master's degree in environmental engineering from the University of Alaska.  She has a hands-on background from performing remote field studies and logistics including wetland delineations, vegetation and water sampling, marine mammal observations, and North Slope environmental compliance, as well as urban contaminated sites monitoring and rehabilitation.
Jocelyn's work travel has led her to many rural communities across Alaska including Tyonek, Aniak, Nome, Kotzebue, Point Hope, Point Lay, Wainwright, Barrow, Deadhorse, and Anaktuvak Pass, as well as other countries such as Norway and Canada.
She and her husband Garth enjoy time with their son, Raleigh, as well as traveling, cooking, and motorsports.