BRINGING THE WORLD TO ALASKA
01/12/2018


12:00 pm - 1:00 pm
49th State Brewing Company

02/08/2018


5:30 pm - 9:00 pm
Dena'ina Civic and Convention Center

03/30/2018


12:00 pm - 1:00 pm
49th State Brewing Company

What is the Alaska World Affairs Council?
The Alaska World Affairs Council is a focused educational organization dedicated to stimulating interest in world affairs and inspiring its members to be involved in world events. The council was founded in 1958 by the late Evangeline Atwood with the conviction that better community education in world affairs is necessary for sound democratic citizenship.
Find out More
Like us on Facebook
The Alaska World Affairs Council is a 501 (c) 3 non-profit, non-partisan organization which is membership-based and is one of approximately 90 members of the World Affairs Councils of America in Washington, DC.
Alaska World Affairs Council
Wednesday, December 13th, 2017 at 3:34pm
Ambassador Lukman Faily on Iraq's Future, the Travel Ban, and ISIS
Lukman Faily served as Iraq's ambassador to the United States for three years. He left that post, and the Iraqi Foreign Service, in 2016. A lot has transpired since our last chat and we plan to follow this short exchange with a more in depth discussion on Covert Contact soon.
Follow us on Twitter
Thursday, December 7th, 2017 at 12:32pm
We are looking forward to hosting @FailyLukman on Jan. 12 for a discussion on "Beyond a War Zone: What's Next for Iraq." #beyond #war #zone https://t.co/I68DAvdPI5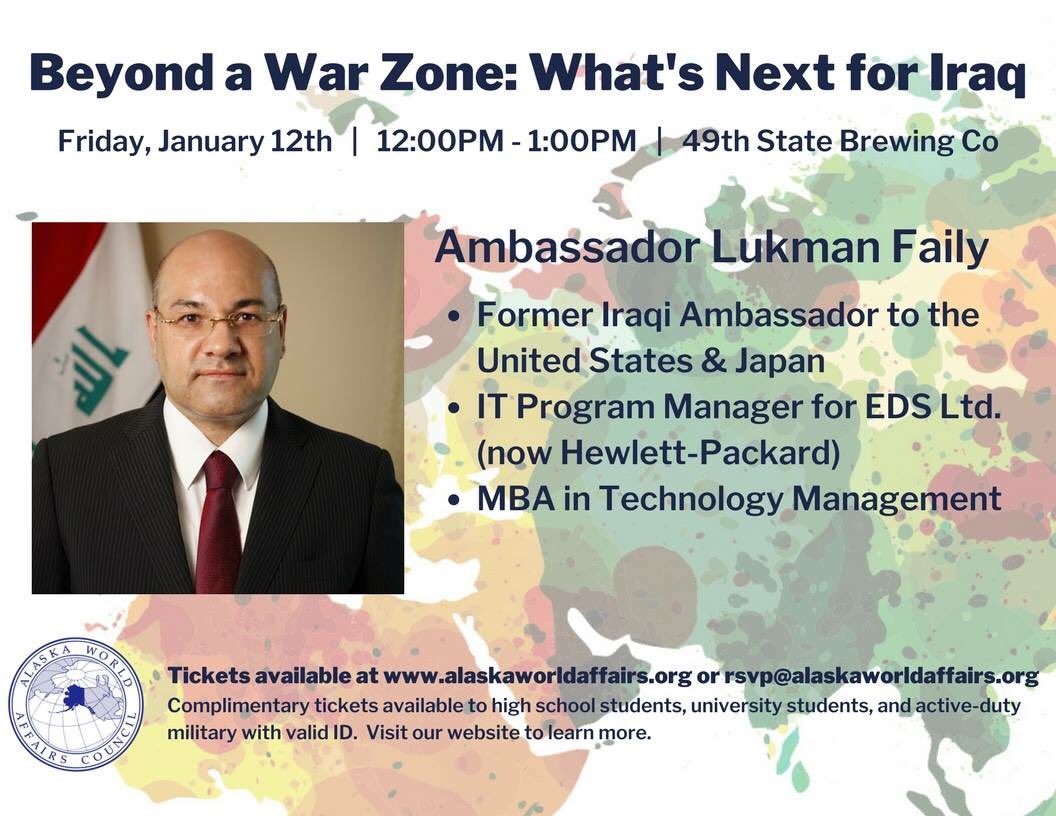 Friday, December 1st, 2017 at 11:02am
Thank you to all of our speakers for such an amazing presentation rich with history! #Alaskans #Melting #IceCurtian https://t.co/EhTzjblaUv